Pole vaulting is not only a physically demanding sport, but it also requires a great deal of mental strength and focus. A top athlete in the field, Carson Waters, shares one of his his secrets – integrating Leela Quantum Tech in his daily life. In this blog post, we'll dive deep into Carson's experience with the H.E.A.L.® Capsule, Infinity Bloc, and Quantum Upgrade, and how they have helped him achieve his goals.
Carson Waters is not just known for his prowess in pole vaulting, but also for his unique approach to holistic health and wellness. When asked about the products he swears by, Waters shared:
"I use the H.E.A.L.® Capsule and  Infinity Bloc by from Leela Quantum Tech, and Quantum Upgrade. Structuring water and fruits with the Infinity Bloc is a part of my daily routine. Having it in my environment also ensures that I'm protected from harmful EMFs."
Highlighting the importance of the H.E.A.L.® Capsule, Carson mentions, "It's a staple during my travels, particularly during flights. It acts as a shield against EMFs and the array of stressors we encounter in airports."
On the competitive front, the Quantum Upgrade plays a significant role. "With the Quantum Upgrade, I mostly incorporate that when I'm competing. I set the Hawkins scale to 1400 for the day, then carry on as normal. Throughout those days, I have felt a slight expanse of oneness around me. And that feeling has allowed more instances of gratitude. As well as confidence in my body's abilities. Also allowing for more feelings of acceptance when I fail. "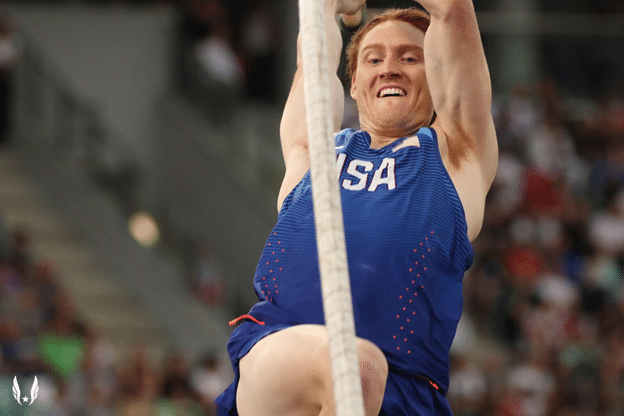 The Mind-Body Connection & Energy Work
Carson believes in the deep connection between the mind and body. "I see the mind and body as being connected, so to be operating at a high level, it's best for both to be in sync, in my opinion. And given all of the ways the current state of the world can deplete health physically and mentally, Leela Quantum Tech has been a great helper and teacher. I love that by guarding and healing from the physical negative effects of EMFs, and non-structured water, the mental state of a person can be better. "
Carson starts his day off by wearing the H.E.A.L.® Capsule, which he finds to be especially helpful when traveling, especially by air. As he explains, the Capsule strengthens him against the impact of EMFs and other potential stressors that he encounters in airports. This has helped him stay calm and focused during long flights, even when preparing for a competition.
In addition to the Capsule, Carson uses the Infinity Bloc to structure water and fruits. He finds this particularly beneficial as it helps keep him hydrated while training, which is critical to his athletic performance. Additionally, the Infinity Bloc has been helpful in blocking EMFs in his home, which can otherwise result in negative impacts on his health.
When preparing for competitions, Carson incorporates Quantum Upgrade into his routine. On competition days, he sets the Hawkins scale to 1400, which he finds helpful in expanding oneness around him. This sense of unity promotes gratitude, confidence, and acceptance of failure, ultimately helping him perform at his best.
Creator: Cheryl Treworgy 
| 
Credit: PrettySporty/Cheryl Treworgy
Copyright: PrettySporty.com Inc
A Glimpse into Carson Waters – The Athlete & The Individual
Apart from being a dedicated athlete, Carson is passionate about exploring diverse cultures and languages. "Continuous learning is something I thrive on. My interests are vast, ranging from health, especially movement and nutrition, to sport psychology."
Delving into his illustrious career in pole vaulting:
Ranked 54th globally and 14th in the US.
Achieved a personal best of 5.71 meters (18' 8 3/4").
Trained under the guidance of Daniel Ryland and Sam Bell, proudly representing Ryland Pole Vault and Bell Athletics.
Graced Team USA at "The Match" in Belarus (USA vs. Europe).
Impressive achievements at the National Championships, securing 10th and two 6th places.
Nearing his Olympic dream, Carson was an Olympic trials finalist, placing 11th.
Conclusion:
Achieving success in any sport requires hard work and dedication. Whether you're an athlete or an everyday person looking to optimize your wellbeing, incorporating Leela Quantum Tech products like the H.E.A.L.® Capsule, Infinity Bloc, and Quantum Upgrade, can help you reach your goals and unlock your full potential.